"Do not be afraid. I bring you good news of great joy that will be for all the people."
Luke 2:10
Every day, we bring health, dignity and hope to mothers and babies across the world through our projects - work that's only possible with your support. This Christmas, please consider making a donation towards our life-saving work as we hope to raise £25,000.
---
Throughout the Christmas story, the powerful words: "do not be afraid" are spoken many times. For pregnant women and mothers in Haiti, South Sudan, and Uganda, there are many reasons to be afraid. But through our work, we bring comfort and hope, even in the darkest of situations. And this Christmas, we need your help to say "do not be afraid".
During Advent and Christmas, many of us celebrate the birth of Jesus, and reflect on the joy and hope that new life brings. Pregnancy, birth and motherhood should be just that – a time of celebration. But for thousands of women and girls around the world that don't have access to the support they need, it is simply a time of fear. A girl in South Sudan is more likely to die in childbirth than finish secondary school. 1 in every 39 babies born in Haiti will not survive their first month.
We provide maternal and infant healthcare in Haiti, South Sudan, and Uganda, to make pregnancy, birth and childhood safer, happier, and less scary. This includes community outreach to identify and refer high-risk pregnancies, expert maternal and neonatal care at our dedicated clinics, training and resource provision within communities to make home births safer, and nutritional support and vaccinations in early childhood. With our new clinic in South Sudan, rapidly expanding community outreach projects in Uganda, and growing demand for our services in Haiti, we have more capacity than ever to improve outcomes for mothers and babies. But we desperately need funds to be able to do so.
---
This Christmas, we hope to raise £25,000 needed across our projects which make pregnancy, childbirth and Motherhood safer and happier.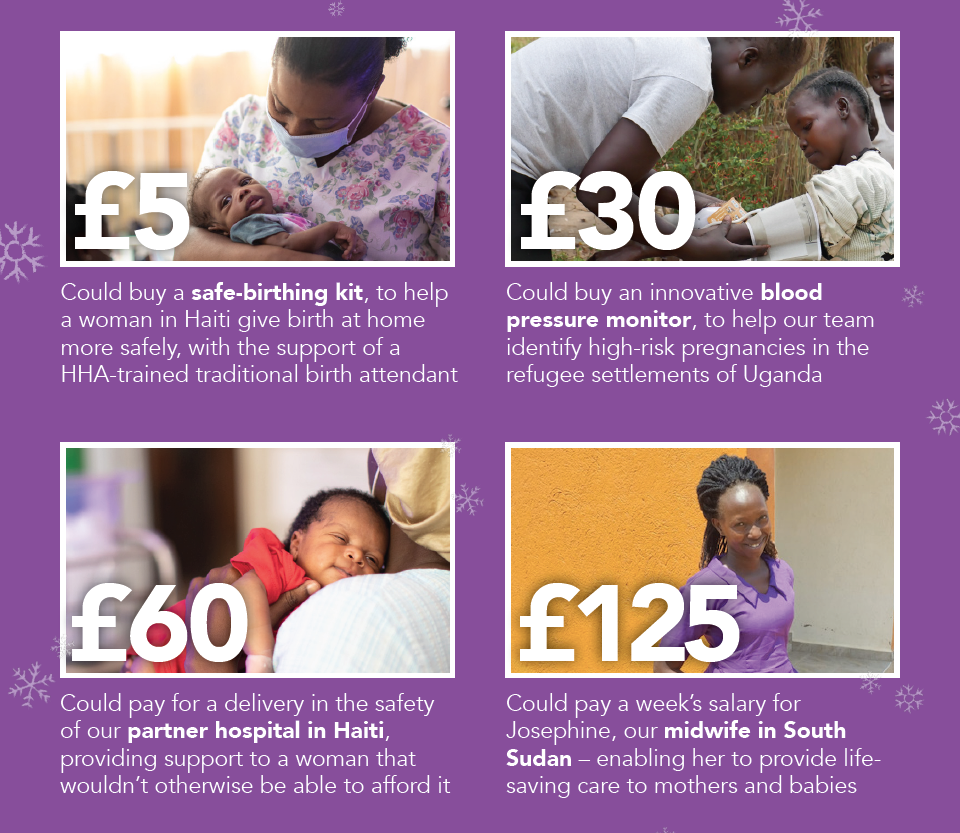 ---
Our 2023 Christmas Appeal film will be available here soon.
---
When a mother named Marie gave birth at home in north Haiti, she had many reasons to be afraid. It was risky for her, but also for her new baby. Thanks to our newly re-started community health programme in North Haiti, Marie was accompanied during her home birth by one of our Traditional Birth Attendants (TBA) who are trained and equipped to provide safer home births.
In Marie's case, her baby did need urgent care. Just moments after the joy of a successful birth, fear returned when her baby experienced breathing difficulties. The TBA not only arranged for the hospital staff to be ready for a new emergency patient, she took mother and baby to hospital herself.
Once there, the Neonatal team quickly assessed and treated the baby with phototherapy, CPAP breathing support and antibiotics. To everyone's relief, the treatment worked well and a few days later both mother and baby were ready to return home.
With the specialist care available at our partner hospital, and with that support extending out into the community through our Health Agents and Traditional Birth Attendants, we can say to mothers in Haiti 'Do not be afraid'.
Please help us provide safer pregnancy, birth and motherhood for more mothers around the world with a gift this Christmas.