RECIPE FROM UGANDA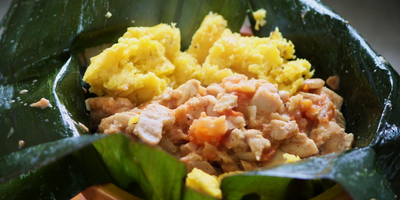 Luwombo is a traditional Ugandan recipe. It is both a royal dish and a fairly common dish cooked especially during the holidays and can be prepared with beef, chicken, pork or goat (a very popular meat in Africa). Want to get stuck in? Here's how to make it:
• 2 lb beef , diced
• 1 cup unsalted peanuts , ground
• 2 onions , chopped
• 4 tomatoes , chopped (or 1 (14 oz) can of crushed tomatoes)
• 1 cube chicken bouillon
• 1 cup mushrooms , sliced
• 1 piece smoked fish , or smoked meat (optional)
• Salt
• Pepper
• Banana leaves
• 6 plantains
Instructions
1. Sauté the meat in a lightly oiled pan until browned on all sides. Set aside.
2. Heat a tablespoon of oil in a pan, then add the onions and cook for 2 minutes before adding the tomatoes, chicken bouillon cube, salt, pepper, peanuts, mushrooms and smoked fish (or smoked meat ). If necessary, add a little water to form a smooth sauce. Simmer for 8-10 minutes. Add meat and mix.
3. Cut banana leaves to form 10-inch wide rectangles. Remove the mid rib. Place the banana leaves above of a fire for a few seconds to soften. Then rinse with water.
4. Place a portion of the meat mixture in the centre of a leaf. Fold the leaf on the sides, then fold the other two ends to form a small pouch. Tie with a string then repeat with the operation with the rest of the mixture.
5. Place a rack in the bottom of a large pot and add water to the bottom. Place the pouches on top of the rack and cover.
6. Add the plantains over in the pan. Bring to a boil and steam for at least two hours.
7. Take plantains out of the pot and mash with a fork.
8. Serve luwombo with mashed plantains.
Enjoy!