STORIES OF HOPE: MALNUTRITION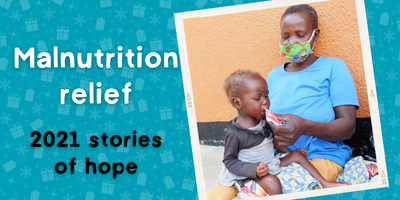 Uganda currently hosts 1.3 million refugees and asylum-seekers, most from war-torn South Sudan and DR Congo. It's the largest refugee crisis in Africa and there are significant challenges in the refugee settlements, including nutrition. HHA started providing malnutrition support for the families in 2017 and has since joined the Plumpy'Nut programme - a ready to use therapeutic food for children and can treat a child with severe and acute malnutrition in just 6-10 weeks.
This young girl received a course of Plumpy'Nut this year to treat her malnutrition, and her life has already been transformed. After her mother first heard about the programme, they both travelled 50km to reach our health facility where the therapeutic food was being distributed. This mother and baby are very happy to have travelled so far to receive this life-saving help, which will aid the mothers hope and dreams for her child to become a teacher in the future.