RECIPE FROM HAITI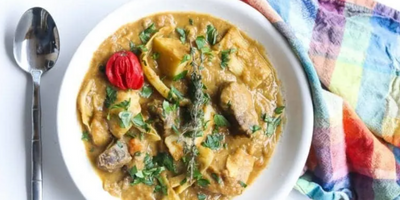 Try making this traditional dish. Usually served on 1st January to celebrate Haitian independence day, it's ideal for a chilly day. There are no quantity rules and you can swap veggies depending on your taste. This recipe will feed 6 - 8 people.
Step 1 - seasoning. Take olive oil, 2 spring onions, a pepper, 2 sticks of celery, parsley, a garlic clove, salt and pepper and pulse with a hand-blender until you get a rough, salsa-like consistency.
Step 2 - meat. You'll need 450 grams of beef, chopped into cubes. Massage with lime juice, mix in the seasoning and leave to marinate – the longer the better! Then brown in a pan with oil.
Step 3 - veggies. Roughly chop an onion, a leek, 2 sticks of celery, a garlic clove and spring onions. Cook until golden brown. If you spice, you can add a scotch bonnet pepper. Add chopped butternut squash (swap for sweet potato or a small pumpkin), 2 chopped carrots and enough vegetable stock water to cover everything in your pan. Simmer until the squash and carrots are tender.
Step 4 - puree. Remove the scotch bonnet pepper! Then puree with a hand mixer to make your soup.
Step 5 - mix. Add the beef into the soup mix. Simmer for another 45 mins until the beef is cooked through.
Step 6 – traditional extras. For a traditional experience, add chopped potato, malanga (swap for turnip) cabbage and pasta. Rigatoni works best. Simmer for another 15 minutes until the potato is tender.
Step 7 - serve. Season with salt and pepper to taste, serve with a squeeze of lime juice.